solidworks methods for creating closed corners CSWP Sheet Metal
solidworks methods for creating closed corners CSWP Sheet Metal.In the Sheet metal package we have the ability to add closed corners to parts. Now in this example here I've got this piece of sheet metal and I created all three of these edged flanges, this one, this one, and this one, all with the same exact feature. And notice when you do create them all with the same feature, it actually does kind of bring these corners together for you. Notice it extends this material out from this point here out a little bit. And that's a nice feature that's kind of built in to Solidworks Edge Flange. However if you do a separate feature, or a separate edge feature actually over here, I'll give an example so click on edge flange, click on this edge right here, and go ahead and bring this up.
I'm going to go ahead and bring it up to the same point here so, instead of blind I'm going to say up to vertex, and go ahead and choose that point right there. Click on okay. Notice we've got this big old gap here right. Because it's building it as a separate feature. It opened up the corner here for us which is kind of nice, but it doesn't look the same as it does over here. So there's a couple of different issues with the way we created this part. Now if I go back to this edge flange number two, notice I've got a couple of other things that can change here. I can change, I can offset things or I can move the material to the outside and things like that.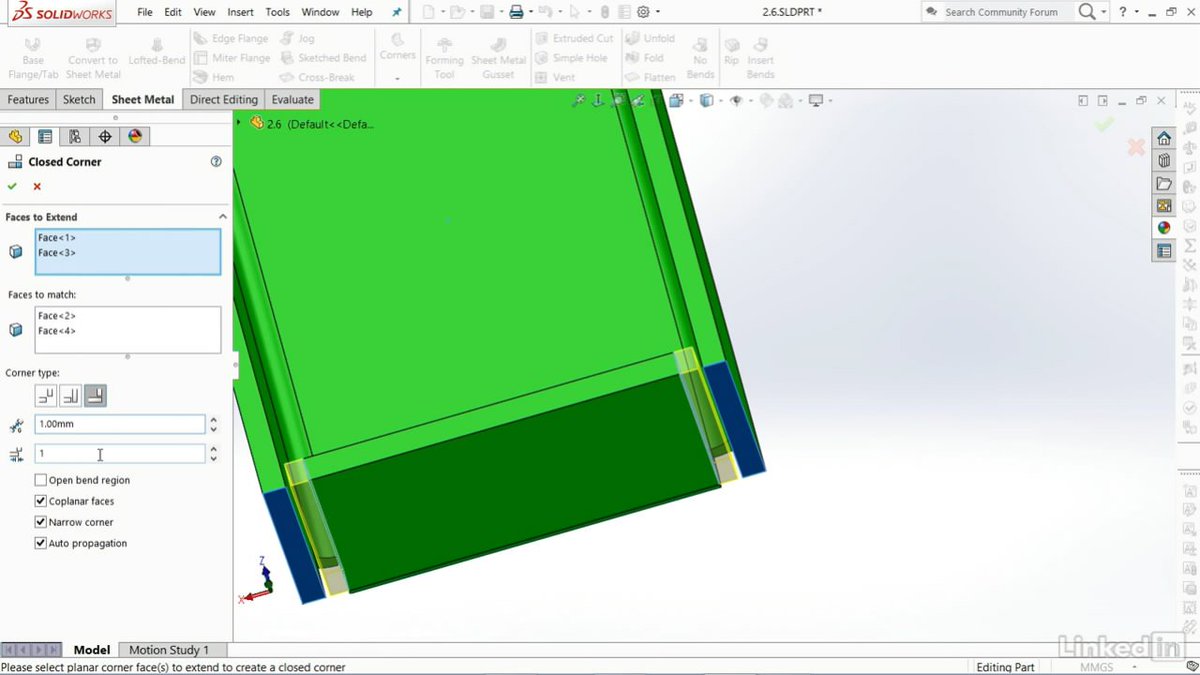 But that's about all I can do, because of the way that feature was created. That's where the closed corner really comes into play. So I can choose whether I like to have this material fill in this gap here if I'd like to, or over here I can have it kind of overlapped down to this edge here, or have this edge come forward. Either one of those options is really available. So let's jump up here into the closed corner. So in the corners, come up here, click on closed corner, and then click on faces to extend.
So in this case I'd like to have this end of the box overlapping the two outside faces. So click on faces to extend. I'm going to choose this one right there, and notice it gives you a preview showing it's going to extend this out a little bit and cover over to the edge of this other one. Same thing over here. I can do it both at the same exact time. And go ahead and click on okay. And you can see it extends it all the way out to the outside edge and there's a very, very tiny gap between the two. I'm using some pretty thick material here, and the reason I chose some thick material is so you can see what's really going on with the sheet metal.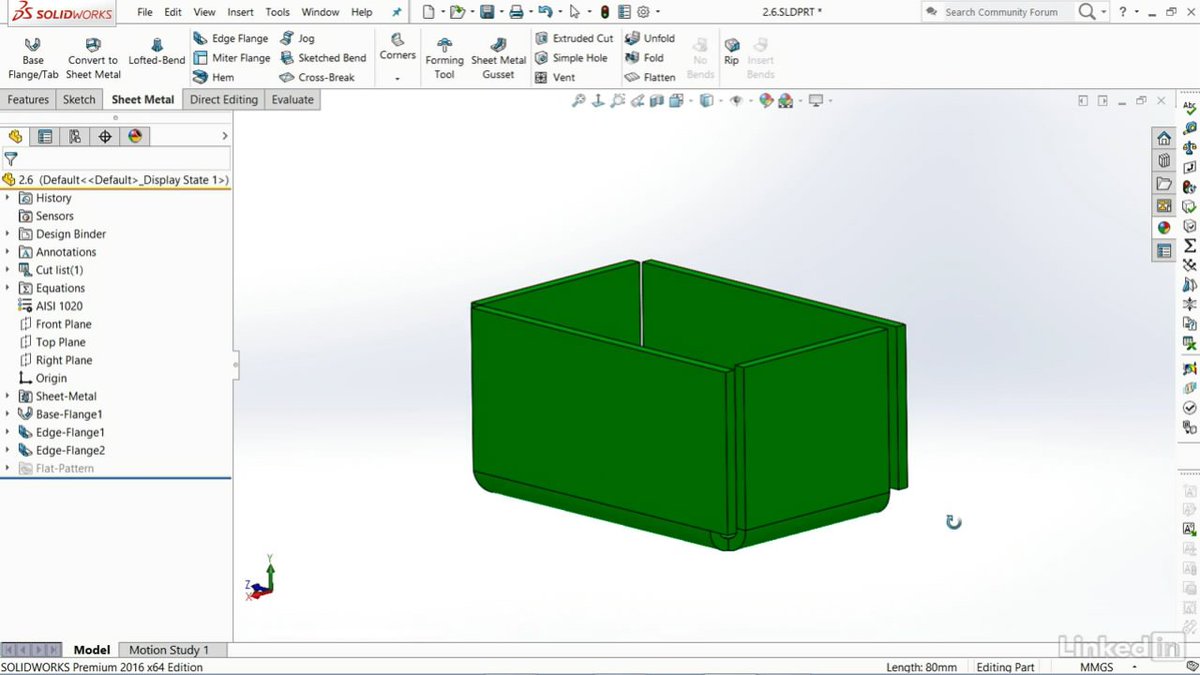 Makes it a little bit easier to illustrate what's happening in these corners, and what's really happening in the part. So lets try that one more time. Corners, closed corner. You can click on the faces to extend in this case here, I'm going to choose this one here, as well as this one over here. And notice what this is doing, it's actually wiping out this other piece here. It's going to be trimming that back and extending this one over here. I also have the option to switch to a butt joint here, so they both are extended, but this one's actually going to be trimmed and this one can be extended over, or it can overlap the other direction right.
So in this case that's really what I'd like to do, I'd just like to extend this over to the edge and so it looks pretty good. Also down here I can click on the gap. So right now it's only point one millimeters, which is pretty small. So I typed in one, notice the gap gets a little bit bigger. You can see a little bit bigger gap right there. Same thing over here with the overlap or underlap ratio. I'm going a full material width over. If you clicked on point five, you would only go half as much. So if I clicked on point five, it would then change to being half that material thickness.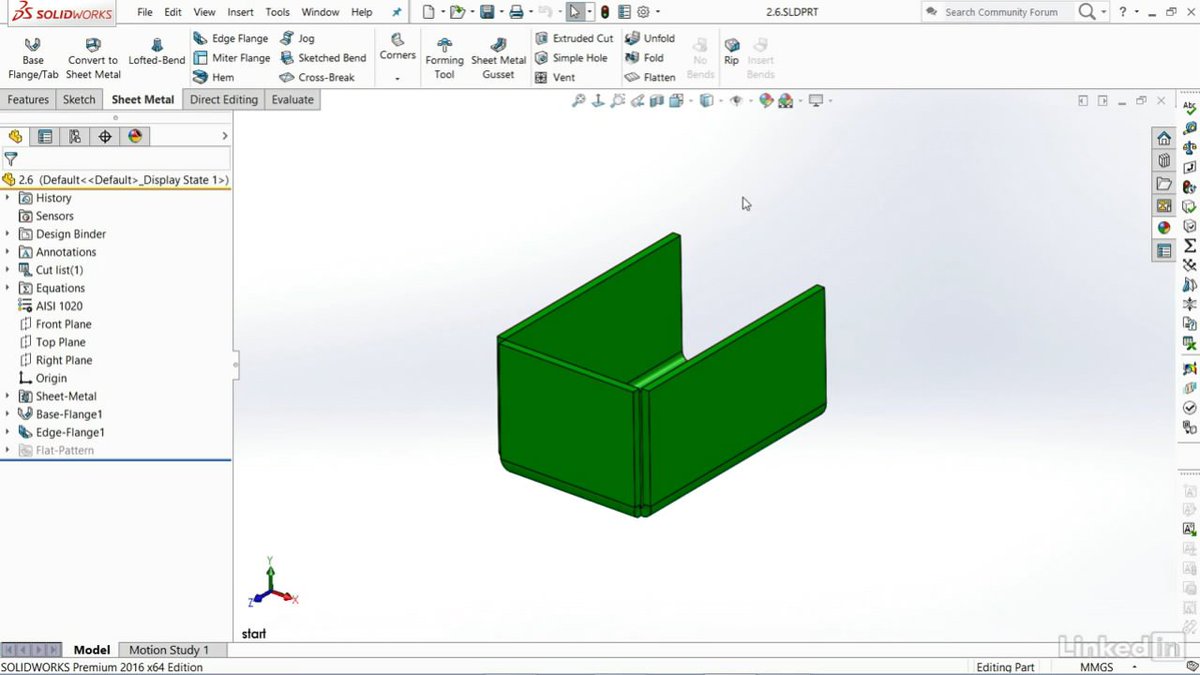 Notice it's trimming it back a little bit, so it doesn't go fully across the material. I'm going to switch that back to one and you can see it fully extends. You also have the option down here to click on an open bend region if you'd like to, or a couple of these other options you can check them out indefinitely. Play with them, but you're definitely going to see something like this on the exam, so make sure you're understanding how the closed corner tool works, and some of the different options, so you're able to get the shape that you're looking for. Go ahead and click on the green check mark, and that's it for the closed corner.
SOLIDWORKS 2017 Premium is powerful solid modeling computer-aided design (CAD) and computer-aided engineering (CAE) program especially for creating 2D or 3D models. It has all the latest designing tools and features that help the designers in designing single components, incredibly complex equipment, or even entire facilities and turn ideas into higher quality products. There are new powerful modeling tools are there in this version. These helps the designers to design faster, easier modeling with fewer picks and clicks.
You can buy solidworks program at low price and other solidworks tutorials.Everything you need to learn what's new, including tech tips, demos, and upcoming product webinars.
---
---