solidworks Sheet metal use of the cut list properties and location
solidworks Sheet metal use of the cut list properties and location.Any time you're working on a sheet metal part you have a huge amount of data available to you as far as the size of the flat pattern and whole bunch of other information in the cutlist properties. So if you come over here to cutlist, click on the twirl down, notice we've got the Sheet one here. Right click on that and say properties. And notice all this great information that happens to pop up. I've got a bounding box link, width, thickness. bounding box area. All this great information is available to you and you can link to any of these values on your drawings, or your custom properties anything that you, you can all link back to these cutlist properties, so really powerful.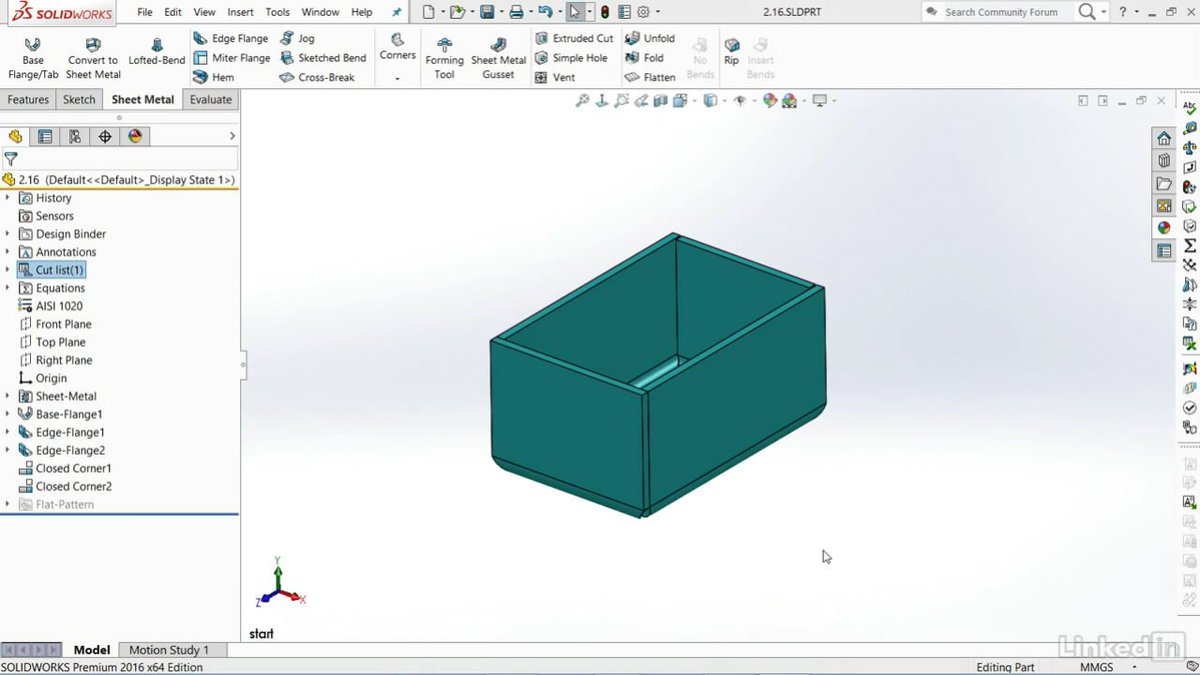 And more than likely in the exam, you're gonna be asked to adjust a flat pattern size using either K value, a bend allowance, a bend deduction, or some other way to adjust that flat pattern. Maybe it's even a gauge table. I'm not sure. But, you're gonna have to apply that correct value for the bend deduction, or bend allowance. And then come back here and maybe take the bounding box area, or the thickness, or the length of that box and that's gonna be your input to the testing client. So definitely make sure you can get to these cutlist properties. Again, if I close out of that it's under cutlist.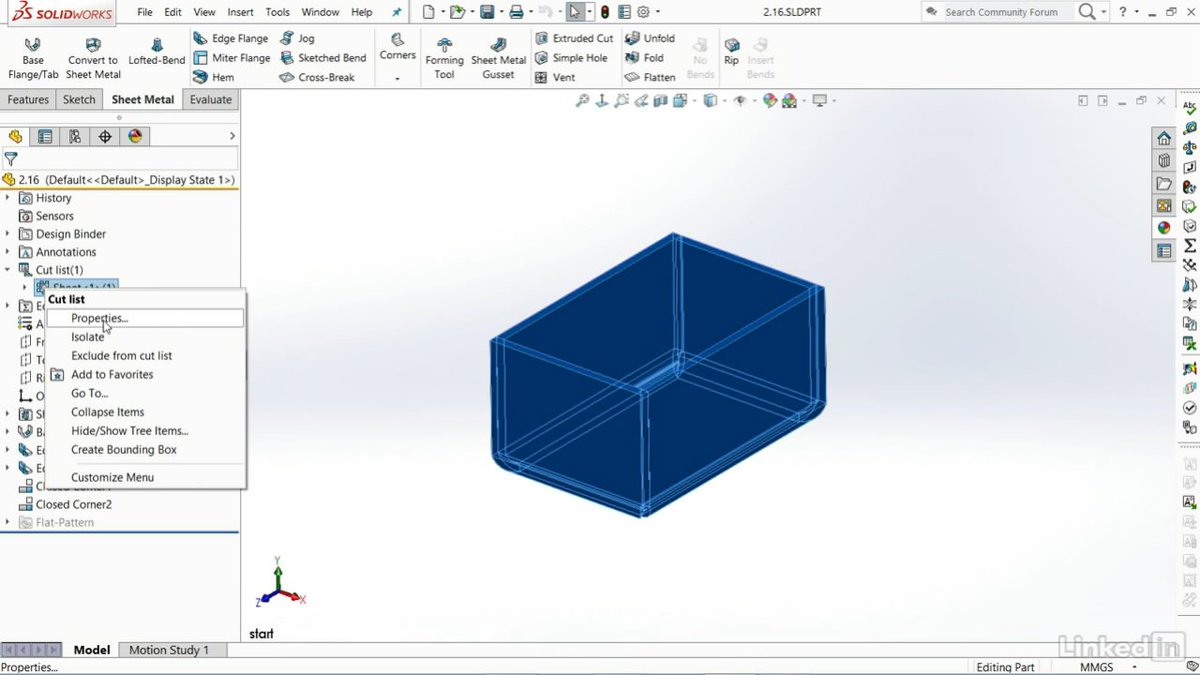 The first sheet, right click and just say properties to get back to there. And if you're editing anything as far as the size of the flat pattern come over to sheet metal, right click, click on edit feature. And then over here I can change the bend allowance. I can switch from K factor to bend allowance, bend deduction, bend calculation, or bend table. Make whatever change I need to, in this case they want me to change that to .5. Click on okay. That will change the size of the flat pattern according to that .5 K factor value. Then can come back to the cutlist right click on properties.
And you can see here that the length and width changed, as well as the bounding box area. So that is your cutlist properties and they're very powerful. And also keep in mind, you can always link to these values because they are real properties attached to that sheet metal part.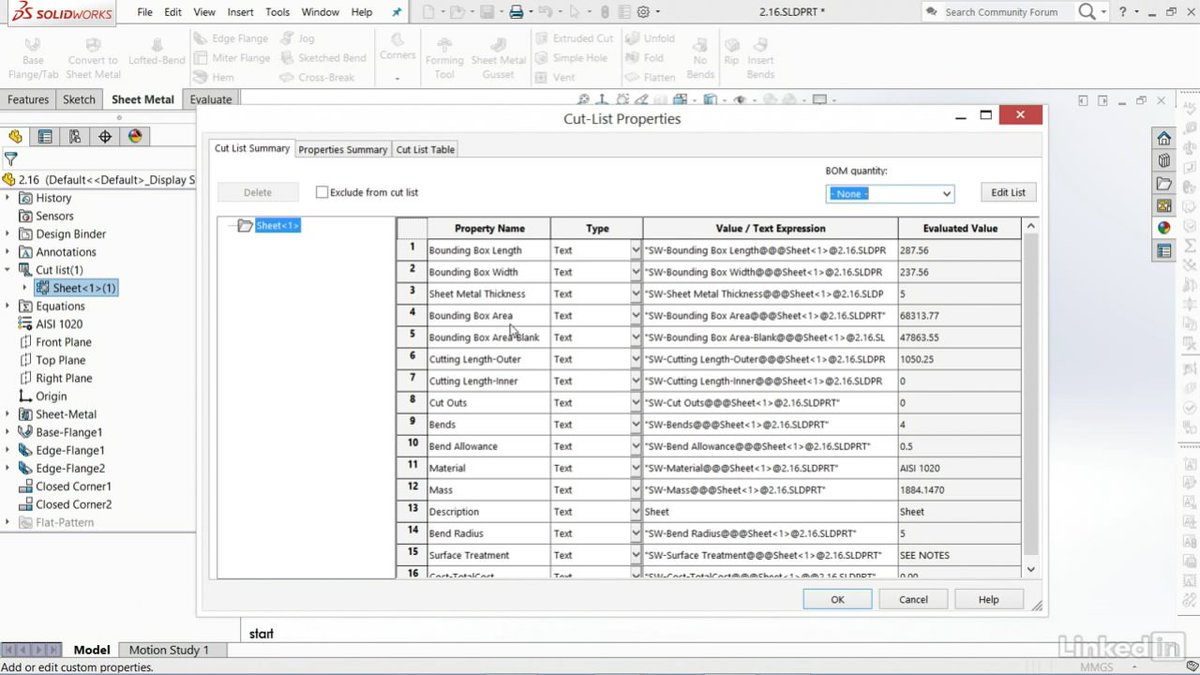 SOLIDWORKS 2017 Premium is powerful solid modeling computer-aided design (CAD) and computer-aided engineering (CAE) program especially for creating 2D or 3D models. It has all the latest designing tools and features that help the designers in designing single components, incredibly complex equipment, or even entire facilities and turn ideas into higher quality products. There are new powerful modeling tools are there in this version. These helps the designers to design faster, easier modeling with fewer picks and clicks.
You can buy solidworks program at low price and other solidworks tutorials.Everything you need to learn what's new, including tech tips, demos, and upcoming product webinars.
---
---